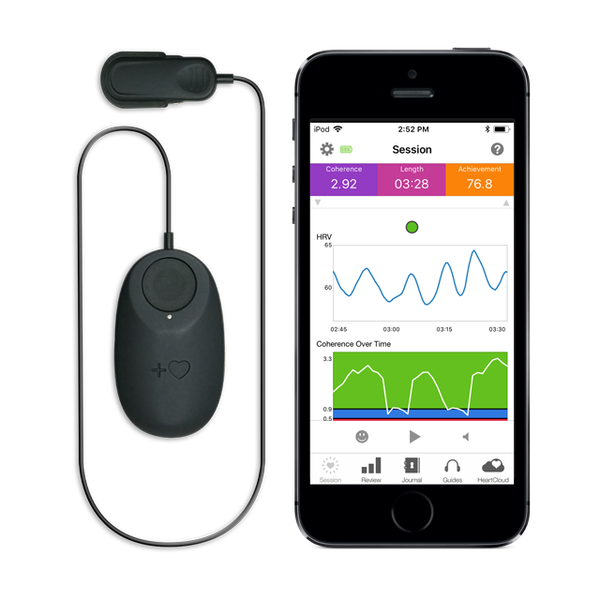 Inner Balance Bluetooth for Android & iPhone
0001
Product Details
The Inner Balance™ sensor and app teaches you how to shift from stress and frustration to balance and resilience with real-time feedback, based on your own heart rhythm.
When we're stressed, we feel unwell, and our brain function and creative thinking become impaired.
We might overlook or forget important details, overreact to small stuff, say things we regret, get overwhelmed, have trouble sleeping or feel exhausted and drained. But it doesn't have to be this way!
With Inner Balance, you will learn how to restore emotional balance right in the moment you need it.
Learn how to synchronize your heart, mind, and body to reset your composure and inner clarity, calm reactive emotions, and neutralize stress. This creates an inner state called coherence.
With practice, you'll feel calmer, more centered and focused – and enjoy a 'carryover effect' into your next activity. You will access more intuitive discernment to make better decisions.
This self-empowering technology uses heart rhythm feedback to tell you when you're on the right track. A quick and easy 3-5 minute session a few times a day is enough to make a meaningful difference.
The Inner Balance Trainer is optimized to ensure accurate HRV and Coherence measurement.
Medical grade photodetector
125hz sample rate - measures your heart rate 125 times a second
Auto gain control capable of changing resolution of measurement in real time
State of the art, ultra-low Bluetooth working at an output power range of 0.5 mW or less, which is significantly lower than mobile phones
80 hours of battery life, display of battery level in app and auto-shutoff
Ergonomic shape for easy placement with a low profile, lightweight design
USB charging cable included
The Inner Balance™ Trainer is based on years of scientific research and is designed to teach you how to shift your emotional state in the moment – so you feel better and think more clearly. Watch the video below to learn more about the developers at the HeartMath Institute
Save this product for later