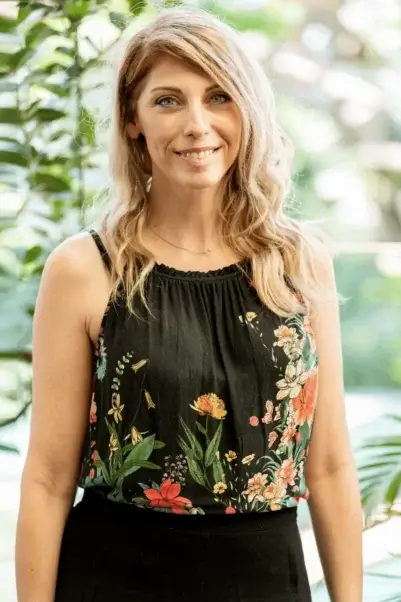 Danielle specialises in the treatment of anxiety and depression and is dedicated to empowering clients to restore a natural state of calm, balance and wellness within themselves.
By adopting a person centred approach Danielle guides each client on their own highly personal healing journey.
Danielle specialises in the treatment of:
Located at Lvl 1, 296 Payneham Rd, Payneham SA 
Training & Qualifications
Diploma Hypno-counselling
Certificate Clinical Hypno-psychotherapy
HeartMath Clinical Certification for Stress, Anxiety and Self Regulation
Trauma & Suicide Ideation Training
Abelism & Neurodiversity Affirming Play Therapy
Pranayama & Meditation Teacher Training
Ashtanga Yoga Teacher Training
Certificate III Children's Services
Children's Yoga Teacher Training
 Industry Memberships
Clinical Member – Australian Hypnotherapists Association AHA

AHA Member ID: 

2020578
Integrative Therapies:
Enhanced Cognitive Behavioural Therapy (eCBT)
Psychotherapy
Counselling
Hypnotherapy
Neuro-linguistic Programming NLP
Polyvagal Biofeedback Therapy
Solution Focused Therapy
Regression Therapy
Inner Child Work
Parts Therapy & Gestalt
Mindfulness & Meditation Practices
my journey
In my own words…
At the age of 14 I began attending weekly workshops at a local meditation group. I was the youngest member of that group by about 25 years… I felt like I'd returned home from a long lonely voyage. I found myself reading any book I could get my hands on about meditation and holistic healing modalities. At 16 I came across a book about regression therapy and became absorbed in the subject, even practicing on my best friend!
When I turned 18 I travelled to Nepal to work with children. I learned Vipassana Meditation while practicing 10 days of silence. There I discovered and experienced first hand the incredible potential of the subconscious mind that lies within each of us.
Returning home to Australia I was swept up in the reality of finding a job, buying a house and all the the "normal" things expected of us in life.
During my thirties I took a long hard look at myself and my life…
Somewhere along the way I'd gotten off track. I decided that I wanted to make a difference in the world in a way that felt meaningful to me. What I quickly realised is that I had lost connection with the only person who could help me… myself!
I began re-investing in myself. I sought out a variety of holistic healing modalities; I learned and I applied what I learned in my day to day life and I was amazed at the results.
Having realised this transformation within myself I was inspired to study Yoga, Meditation & Hypnotherapy. As these were the tools I used to reconnect with my internal guidance system, release large amounts of past programming and re-create myself with conscious awareness.
I developed more self-awareness, self-compassion, and began to thrive in life rather than merely survive.
Today I specialise in Hypno-psychotherapy and enhanced Cognitive Behavioural Therapy utilising a host of transformational tools and to aid in helping others to return to a state of wellness, wellbeing and resilience within themselves.
Holding space for others to release and to realign is my passion, purpose and happy place. 
Here's what I know to be true… it all begins with YOU.
When you decide to work in partnership with your whole being; mind, body and soul… Then, and only then, are you truly ready to allow your best TRUE & BEST SELF to radiate from within you. 
Email
hello@daniellepaphitis.com
address
Lvl 1, 296 Payneham Rd, Payneham SA
If you are unable to navigate stairs please contact me ahead of time so I can arrange a ground floor room for our session.