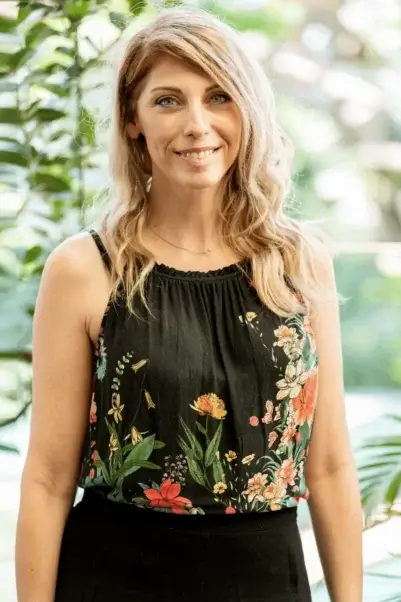 Danielle is dedicated to empowering clients to restore a natural state of calm, balance and wellness within themselves.
By adopting a person centred approach Danielle guides each client on their own highly personal healing journey.
Sessions are conducted in her comfortable and calming treatment room conveniently located in Payneham, South Australia with access to off-street parking. Alternatively clients are able to choose to have sessions online via Zoom in the comfort of their own home.
Danielle specialises in the treatment of:
Training & Qualifications
Diploma Hypno-counselling
Certificate Clinical Hypno-psychotherapy
HeartMath Clinical Certification for Stress, Anxiety and Self Regulation
Trauma & Suicide Ideation Training
Abelism & Neurodiversity Affirming Play Therapy
Ashtanga Yoga Teacher Training
Certificate III Children's Services
 Industry Memberships
Australian Hypnotherapy Association (AHA) Clinical Member ID:

2020578

Guild of Australian Hypnotherapists (GoAH)

Clinical Member ID: 2023012

Both my training provider & association membership are approved by the Hypnotherapy Council of Australia (HCA) the recognised Peak Body for Hypnotherapy in Australia.
Integrative Therapies:
Enhanced Cognitive Behavioural Therapy (eCBT)
Psychotherapy
Counselling
Hypnotherapy
Neuro-linguistic Programming NLP
Polyvagal Biofeedback Therapy
Solution Focused Therapy
Regression Therapy
Inner Child Work
Parts Therapy & Gestalt
Mindfulness & Meditation Practices
my journey
In my own words…
At the age of 14 I began attending weekly workshops at a local meditation group. I was the youngest member of that group by about 25 years… I felt like I'd returned home from a long lonely voyage. I found myself reading any book I could get my hands on about meditation and holistic healing modalities. At 16 I came across a book about regression therapy and became absorbed in the subject, even practicing on my best friend!
When I turned 18 I travelled to Nepal to work with children. I learned Vipassana Meditation while practicing 10 days of silence. There I discovered and experienced first hand the incredible potential of the subconscious mind that lies within each of us.
Returning home to Australia I was swept up in the reality of finding a job, buying a house and all the the "normal" things expected of us in life.
During my thirties I took a long hard look at myself and my life…
Somewhere along the way I'd gotten off track. I decided that I wanted to make a difference in the world in a way that felt meaningful to me. What I quickly realised is that I had lost connection with the only person who could help me… myself!
I began re-investing in myself. I sought out a variety of holistic healing modalities; I learned and I applied what I learned in my day to day life and I was amazed at the results.
Having realised this transformation within myself I was inspired to study Yoga, Meditation & Hypnotherapy. As these were the tools I used to reconnect with my internal guidance system, release large amounts of past programming and re-create myself with conscious awareness.
I developed more self-awareness, self-compassion, and began to thrive in life rather than merely survive.
Today I specialise in Hypno-psychotherapy and enhanced Cognitive Behavioural Therapy utilising a host of transformational tools and to aid in helping others to return to a state of wellness, wellbeing and resilience within themselves.
Holding space for others to release and to realign is my passion, purpose and happy place. 
Danielle Paphitis
CCHt, Dip.Hyp.Coun.
Beginning in our childhood, right up until the present day, life presents us with a range of experiences. Some are very positive and affirming and others offfer disappointments and setbacks.
Lowered self esteem may result from some of lifes more challenging experiences during  childhood as well as adult life. A part of us can often interpret certain events as evidence that we are somehow less deserving of love and happiness.
Lowered self esteem or confidence might show up in career or work, failed or difficult relationships, or even illness. If lowered self esteem is present, we can be more prone to anxiety, depression, anger or jealousy.
Each one of us perceive ourselves and our day-to-day experiences through the filter of our subconscious programs; these programs are created during our early childhood and through challenging experiences that can occur at any time in our lives.
The problem with 'some' of these programs, is that they were set up to protect us from harm/hurt and they can be mistaken activated even when we are not in immediate danger. When this happens, it can 'hijack our ability to  choose' how we would 'prefer' to think, feel and respond in certain situations.
I facilitate a proven process for releasing past programming that no longer serves you, so that you can take back control and feel better faster.
Therapy involves a combination of Enhanced Cognitive Behavioural Therapy eCBT and Clinical Hypno-psychotherapy. eCBT and hypnotherapy can help rebuild and increase confidence and self worth. Clients are guided to overcome challenges they are facing by accessing un-tapped resources available within themselves.
Together we enable a state of creative focus in a relaxed way and in line with you goals for therapy. As your subconscious mind becomes more focussed, receptive and creative, it naturally allows for therapeutic change to take place at a subconscious level.
It is at this level you are able to begin re-framing problematic events, develop the ability to let go of critical, defeating thoughts and facilitate changes in yourself, in a calm confident resourceful state.
I look forward to connecting with you.
Here's what I know to be true… it all begins with YOU.
When you decide to work in partnership with your whole being; mind, body and soul… Then, and only then, are you truly ready to allow your best TRUE & BEST SELF to radiate from within you. 
Email
hello@daniellepaphitis.com
address
Lvl 1, 296 Payneham Rd, Payneham SA
If you are unable to navigate stairs please contact me ahead of time so I can arrange a ground floor room for our session.